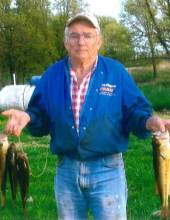 Leonard Eugene Braun, age 83, resident of Joplin, MO, died Friday, October 1, 2021, at Freeman West Hospital, Joplin. He was born on December 29, 1937, in Ness City, KS, the son of Fred and Elma Jane Foos Braun.
He married Wilma Whitaker on July 17, 1963, in Leoti, KS. She preceded him in death on January 29, 2013.
Leonard served as a Corporal in the United States Marines.
He worked for over 20 years as a butcher.
He later worked in the assessor's office in Vernon County, MO for 10 years.
Leonard enjoyed hunting, fishing, raising cattle, and spending time with the grandchildren.
He was often found tinkering in his shop fixing something.
Survivors include two sons, Larry Braun, Joshua, TX, and Darren Braun (Kristi), Roff, OK; two daughters, Kristie Modlin, Nevada, MO, and Lisa Tally, Ft. Scott, KS; a brother, Gerald Braun Harrison, AR; a sister, Mary Platt, Olathe, KS; 15 grandchildren, Chanelle Braun (Sean Sellers), Zachary Braun (Antaza), Brandi Braun, Nathan Braun, Rebecca Courtney (Glen), Kelsie Caldwell (Cody), Kendall Sanford, James Thomas, Tristie Thomas, Kyla Thomas, Charles Thomas, Dalton Modlin, Brett Tally, Devin Tally (Jenna Campbell), and Jessie Brown; 17 great grandchildren; and several nieces and nephews.
Besides his wife, he was preceded in death by a daughter in law, Tina Braun; a son in law, William Modlin; a sister, Margaret; and his parents.
Pastor Ted Furry will conduct services at 11:30 AM Thursday, October 7th, at the Cheney Witt Chapel.
Burial will follow in the U. S. National Cemetery, Ft. Scott.
Memorials are suggested to the Alzheimer's Association and may be left in care of the Cheney Witt Chapel, P.O. Box 347, 201 S. Main St., Ft. Scott, KS 66701. Words of remembrance may be submitted to the online guestbook at cheneywitt.com.