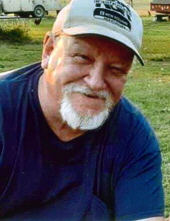 William (Bill) Harrison Skaggs, lovingly called "Ol Man" passed peacefully at his home in Ft Scott, KS.
He was 69 years young and not a day over 33 at heart. The legend was born June 28th, 1951 in Kansas City, MO to Clarence and Thelma (Slade) Skaggs.
He was a jack of all trades and took immense pride in his skill set. Throughout life he wore many hats, but heavy equipment operator, deal negotiator and bullshitter were the most notable. He was owner, operator, salesman, vice president, mechanic, CEO, porter and secretary of Bills Wheels (unincorporated). Gwen Marie Snarr Skaggs took him as her husband on March 31st, 1997 in Miami, OK and though she didn't know what she had signed up for, she was with him through all his shenanigans until his passing day.
Ol Man, as everyone knew him, could be found most mornings with his coffee club and nearly every weekend at the race track. From driving himself, to later sitting back and watching his legacy carry on through children and grandchildren. His home was always adorned with photos of race cars and trophies. When you couldn't find him perched just to the south of the flag man, he was most likely camped out at the lake where he loved taking his grandkids.
His all-time favorite hobby was wheeling and dealing. He could sell ice to an eskimo and relished in all his trading treasures. You could never be sure if he was shooting you straight with some of his tales of deals he swung and chances are the prices were missing a digit if he was telling you what he paid for something but he told his tales in such a way that it didn't matter if they were true, they were entertaining nonetheless.
Bill is survived by his wife, Gwen Marie Skaggs. His wheeling and dealing will be carried on through his three sons, Rusty (Kimi) Skaggs of Arcadia, KS; George Skaggs of Arma, KS; Jerry Skaggs of Ft. Scott, KS. Two daughters La Tishua Harrison of Lenexa, KS and Sherry Skaggs of Topeka, KS. Two stepdaughters Kristina (David) Gouvion of Centerton, AR and Elizabeth Trujillo of Overland Park, KS and adopted daughter Amber McMillan of Joplin, MO.
Some others who deserve an award for having survived his childhood were his three sisters Diana (Mike) Gill of Mound City, KS; Roxie Skaggs of Longmont, CO; and Dawn (Dean) Wood of Casper, WY. His legacy will carry on through his 16 grandchildren and 5 great grandchildren whom he adored, and he hoped every day would go on to pull some of the legendary and outrageous pranks on their parents that were pulled on him. He was honored to be called Uncle Billy to countless nieces and nephews as well.
He was preceded in death by an infant son William (Billy) Skaggs JR, his parents, and two hell raiser brothers David and Darryl Skaggs.
Pastor Steven Porter will conduct memorial services 1:00 PM Tuesday, December 15th, at the Cheney Witt Funeral Chapel. In lieu of flowers, the family would like donations in his honor be made to Buck Run Community Center Youth Baseball and may be left in care of the Cheney Witt Chapel, PO Box 347, 201 S. Main St., Ft. Scott, KS 66701. Words of remembrance may be submitted to the online guestbook at cheneywitt.com.
To send flowers to the family or plant a tree in memory of William (Bill) Harrison Skaggs please visit our
Tribute Store.