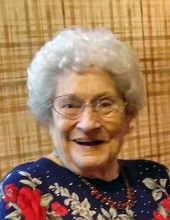 Inez Irene Sutcliffe, age 89, a resident of Ft. Scott, Kansas, passed away Wednesday, February 6, 2019, at her home. She was born November 6, 1929, in Oskaloosa, Missouri, the second of six children of Willie A. Carpenter and Carrie E. Guss Carpenter. Irene graduated from the Liberal High School with the Class of 1947. In earlier years, she was employed as a telephone operator in Arcadia, Kansas and later worked for Key Work Clothes in both the factory and later in the office. While with Key she received several outstanding and meritorious awards. Irene married Frank A. Sutcliffe on November 2, 1964, in Miami, Oklahoma. She later worked as bookkeeper for his truck driving business. Irene was a past member of the Business and Professional Women's Club, V.F.W. Auxiliary, Mercy Hospital Auxiliary and the Red Hat Society. She loved family gatherings, her dogs and cats and flowers, especially roses.
Survivors include a brother, Bill Carpenter and wife Karen, of Liberal, Missouri and two sisters, Leota McClendon of Liberal, Missouri and Wanda "Jay" Dunn of Ft. Scott; and a sister-in-law, Jeanette Carpenter, Lamar, Missouri. Also surviving are eight nephews, Loren Readinger, Darren, Brian, Kevin, Justin, Nathan and Dustin Carpenter and Mike Dunn and four nieces, Linda Tenholder, Susan Jones, Debra Martin and Rhonda Dunn as well as numerous extended family members including Clara and Hannah Dunn who helped provide for her care. Her husband, Frank, preceded her in death on October 23, 1991. She was also preceded in death by her parents, a brother, David Carpenter, a sister, Evelyn Jones and three nephews, Gary Dunn, Randall Readinger and Conner Tenholder.
Pastor Jeff Dillow will conduct funeral services at 10:00 A.M. Monday, February 11th at the Cheney Witt Chapel. Burial will follow in the U. S. National Cemetery. The family will receive friends from 5 to 7 P.M. Sunday evening at the Cheney Witt Chapel. Memorials are suggested to the V.F.W. and may be left in care of the Cheney Witt Chapel, 201 S. Main, P.O. Box 347, Ft. Scott, KS 66701. Words of remembrance may be submitted to the online guestbook at cheneywitt.com.