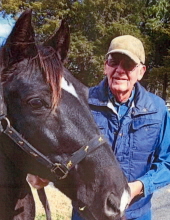 Charles Lee Clark, age 83, a resident of Ft. Scott, Kansas, passed away Tuesday, June 9, 2020, at his home in Ft. Scott.
He was born June 22, 1936, in Ft. Scott, the son of Guy Clark and Minnie May Majors Clark.
Charles graduated from the Hume High School. He married Nina L. Orear on May 17, 1955, at the family farm near Foster, Missouri. Charles served with the United States Air Force from 1955 to 1958 where he was stationed in Germany. Following his military service, Charles was employed by the Johnson County Water Department. He later owned and operated his own dairy east of Hammond, Kansas, for many years. After retiring from the dairy business in the mid-1980's, Charles began working for the Ft. Scott Water Department and later for the Bourbon County Landfill.
Charles enjoyed spending time outdoors and looking after his horse. He was a member of the West Liberty United Methodist Church.
Survivors include his son, Anthony Clark and wife, Linda, of Lebanon, Missouri and his daughter, Lozana Zimmerman, of Pittsburg, Kansas.
His wife, Nina, preceded him in death on November 8, 2010. He was also preceded in death by a son-in-law, John Zimmerman and three brothers, Joe, Kenneth and Gene Clark.
There was cremation.
Private burial will take place at a later date in the U. S. National Cemetery in Ft. Scott, Kansas.
Memorials are suggested to the West Liberty United Methodist Church and may be left in care of the Cheney Witt Chapel, 201 S. Main, P.O. Box 347, Ft. Scott, KS 66701. Words of remembrance may be submitted to the online guestbook at cheneywitt.com.