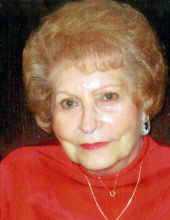 Wilda June Falls, age 88, a resident of Pittsburg, KS, died early Tuesday, June 5, 2018, at Medicalodge of Pittsburg.
She was born on June 19, 1929, in Mound City, MO, the daughter of Samuel and Martha Wherli Taylor.
She married Louis H. Wessley in August of 1947, in Kansas City, MO. They later divorced. She married Clifford J. Falls in 1985 in Garnett, KS. He preceded her in death in 2014.
Wilda worked for the Burnige Oxygen Supply Co. in Kansas City for many years. She later opened Blooming Balloons by Wilda after moving back to Garnett. She enjoyed playing bingo and visiting the Casinos. She was an animal person and loved spending time with her grandchildren. She thought of others before herself. The family wishes to thank the staff of Medicalodge of Pittsburg for Wilda's wonderful care.
Survivors include two daughters, Patty Lewis and husband Jerry, Arma, KS, and Jeanie Thomas and husband Joe, Grain Valley, MO; 3 grandchildren, Zach Howard, Jeffery Carpenter, and Joseph Thomas, Jr.; 9 great-grandchildren, Bryer Carpenter, Samuel Carpenter, Valeria Brady, Jerry Lewis, Jr., Alexus Howard, Dylan Howard, Isabella Howard, Jaimie Brady, and Casey Lopez; and 1 great-great-grandchild, Roanin Carpenter; as well as several nieces and nephews.
Besides her husband Clifford, she was preceded in death by a brother, Wayne Taylor; and her parents.
Rev. Randy Woods will conduct funeral services at 11:00 AM Friday, June 8th, at the Cheney Witt Chapel.
Burial will follow in the Old Arcadia Cemetery. Memorials are suggested to SEK Humane Society and may be left in the are of the Cheney Witt Chapel, PO Box 347, 201 S. Main, Ft. Scott, KS 66701. Words of remembrance may be submitted to the online guestbook at cheneywitt.com.